AI Enhances the Contact Center Experience
By Sudesh T, Head of Customer Care Management, AXA Hong Kong and Macau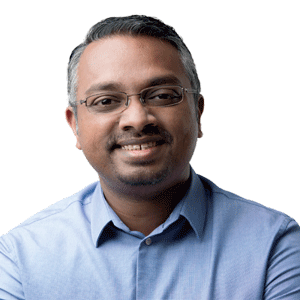 Sudesh T, Head of Customer Care Management, AXA Hong Kong and Macau
Contact centers have long existed because of our need to get immediate help for something that didn't go well or to seek reaffirmation about a product or service by speaking to someone. Because of this innate human need, the contact center industry has boomed globally with many organisations offering outsourced contact center services to various industries to speak to their customers. Here are some of the more common questions I get asked in relation to contact centers.
What is omni-channel?
This is a term used fairly frequently, especially in tech conferences, on how companies can leverage technologies to interact with their customers across multiple channels seamlessly, and yet maintain an understanding of the context and being able to proactively manage customer expectations.
To the customer, "You should know that I sent you an email two days ago, and I walked into your service center last week, and I also called you yesterday about the same problem. How can you not know?" All these interactions usually occur in different channels and in different systems with almost no integration, which make us "look incompetent" that we didn't know these interactions took place.
Imagine knowing who is calling when the first ring hits your hotlines, with the contact center agent being able to see the 360-degree customer portfolio view, past contact history across multiple channels, past survey results, and the reason for the call using AI-based analytics, all within a few seconds of the call being patched through. This technology is available today and is already being used—comes at a cost, but is worth the investment.
Outsourcing your customers' voice?
Well, this has been a long debate of "should I have my own contact center" or "should I ask someone else to run it for me". Most of the time it comes down to cost and scalability, where most companies simply choose to work with a vendor to manage these support services, supported by many transactional KPIs. Very few companies actually add customer experience metrics in these contracts, which includes survey results, tone of voice, and first contact resolution. One of the key reasons for this is because the latter metrics usually means a higher cost of the outsourced contract.
While having the right technology in place acts as a great enabler it's the people behind the hotlines who make the difference
And then there are companies that choose to retain their customers' voice by setting up their own customer contact centers within the organisation. Expensive, but it brings you a lot closer to your customers in understanding their needs and how to quickly react, which then drives product and service improvements. No right or wrong answer, but it's based on your business objectives and strategy.
What makes a good contact centre agent?
Each contact that comes through the hotlines is an opportunity for any organisation to create that positive impression. While having the right technology in place acts as a great enabler it's the people behind the hotlines who make the difference. Most call center agents can handle approximately 40-50 calls a day of varying nature, and most of these calls can be mentally and emotionally draining, especially if the caller is in distress.
Hiring the right contact center agent is of utmost importance, and hiring based on their positive attitude and helpful behaviour is vital. Once hired, they would need to be provided with training, coaching, and tools in order for them to be their best—after all, they are the face (and voice) of the brand and the company. They live and portray the company values and help generate revenue through great customer experience and service.
How to keep contact centre agents engaged?
Unfortunately, contact center roles are one of those jobs that are least regarded and hence face the hiring glut.
Apart from a competitive package and career development plan, team engagement is very important to any contact center, more so because of the team size involved. It encourages the right culture and helps increase retention especially when competition for talent is intense. While it's key to keep productivity high during working hours, simple and regular activities during the day can keep the morale high. Some ideas include team lunches, birthday celebrations, town halls, setting up relaxation corners, ad-hoc celebratory parties, performance awards, and more.
But more importantly, listen. Run regular employee satisfaction surveys to "measure the temperature" as well as to get ideas on how to create an engaging workplace. You can also participate in numerous external industry awards to drive higher performance and create a sense of pride amongst the team members.
Will AI take away contact centre jobs?
This is the age-old adage that robots will one day rule the world! Perhaps, a very very long time from now, but until then, artificial intelligence will be able to help contact centers become more efficient and enable contact center agents to have more meaningful conversations with their customers. Chatbots have already been deployed in many contact centers to help navigate customers on transactional queries. Some AI deployments are already in progress through email bots, AI-assisted proactive communications, and predictive analysis.
Yes, some traditional roles will disappear, but most roles will change and evolve. Contact center roles will still be needed, however, technology will be there to support and enhance the overall customer experience.