Digitization Transforming Business in all Sectors
By Robert Aitken, CIO, Beyond Bank Australia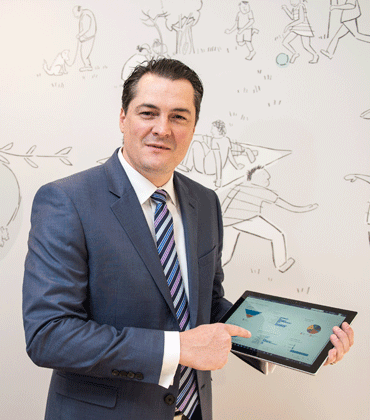 Robert Aitken, CIO, Beyond Bank Australia
Digital transformation is revolutionizing the way companies do business around the world and it is gathering huge momentum across every industry and every sector. Putting your head in the sand is not an option. It is coming whether we like it or not. Indeed, it has moved from being a trend at the periphery of a business to becoming front and centre of any corporate strategy. And it's a transformation that is simply immense in terms of its size and scope regardless of the type of business.
The banking sector is in the middle of such a transformation and while it has been so far an exciting ride, it's also been very challenging as we oversee the efficient introduction and use of technology across the diverse network of banks which spans both regional towns and several of the nation's biggest cities. With increase in number of branches and customers, the banking sector has thrown up a few curveballs and this is where it has been crucial not to waver on the core commitment of improving business efficiencies in the backroom and at the front line. It is needed to ensure that bank staff is kept abreast of what they are doing, that they "buy" into it and understand the benefits and key strategic drivers. Interestingly, while there have been a few speed bumps, it isn't that hard a sel. Prior to commencing the digital transformation, staff had to jump between up to fifteen different screens to access a customer's information. They had what could only be described as a one dimensional view of the person on the other side of the desk, at the other end of the phone.
By implementing major elements of the transformative process, bank staffs now have a crisp and modernized single view of the customer. Instead of that one dimension, it is a 360 degree panorama that allows us to service the customer better as well as offering other bank products and offerings that may be relevant to their own personal situation. This simply could not happen before.
"By implementing major elements of the transformative process, bank staffs now have a crisp and modernized single view of the customer"
We have opted for the Dynamics 365 through partner UXC Eclipse as it was a system that brought everything together. Its ability to draw out real time data made it customer-centric and truly altered the user experience. That alone has changed the very nature of the way we do business. Plus it's made staff more efficient and boosted productivity which is so important for us in the market. Equally, we knew and deeply understood that we could never lose sight of the simple fact that customers remain at the centre of everything we do. It's why we are in business and as a customer owned bank, one of the largest in Australia, we are intrinsically linked to the customer and the broader community. That means that any CRM must be able to grow and develop alongside our customers and their changing aspirations. Early feedback has been very positive.
In fact, clever integration has been critical to this transformation as we need our staff to be free to access applications on the road and often in remote locations. For us, cloud technology was the key. Our business needs to continue to meet and exceed the expectations of customers who are demanding more than ever before. The cloud provides us with agility and speed to market that allows us to hit the right goals and outcomes no matter where we are. Of course, that brings the question of security into play. As you can imagine, security of information is paramount. Regardless of where your information resides, your responsibilities and the controls that are put in place must be both rigid and effective.
As organizations everywhere adapt to this next generation of business intelligence tools, it is important to remember that collaboration and connectivity must remain top of mind. It's virtually impossible to bring in a digital transformation if you don't have a united team and approach.
If everyone is on board, it makes it so much easier to strategically adjust and tweak various components of the transformative process and gives staff a real sense of empowerment and ownership. It allows a more fluid and flexible means to measure, react and adjust to the many nuances that may be evident in an individual business. Our experience has certainly been that a one size fits all attitude won't hold in the long term. Eighteen months in, we are delighted with the process and now eagerly await the next wave of opportunities as we constantly strive to enhance the customer experience.
Established in the year 1958 in Adelaide, Australia, Beyond Bank Australia offers banking services to customers ensuring investment management, superannuation, retirement planning and personal insurance and many more. It also concentrates on estate planning and transitioning aged care.